【Wireless doorbell battery powered & easy to install】 The receiver is powered by 3*AAA batteries (included), does not occupy a socket, can be installed wherever you want to install, easy to install. Comes with 3M double-sided stickers and receiver tiles. You can stick it on the wall or wherever you want

【IP55 waterproof button】 The transmitter has a waterproof rating of IP55, which is higher than that of ordinary doorbells. Operating between -4 °F and 140 °F, its sturdy structure allows the doorbell to work even in the harshest weather conditions.

【Long Wireless Range】The operating range in open areas can be up to 1000ft. Whether you sleep in the bedroom, cook in the kitchen or read in the garden, you will not miss any visitors! It can be widely used in homes, offices, classrooms, apartments, factories and other places.

【Rechargeable receiver】 The receiver is rechargeable and comes with Micro USB (included in the package). There is no need to replace the battery at any time.

【55 melodies and 5 adjustable volume & loud sound】 5 levels of adjustable volume from 0db to 110db and 4 practical ringtones. Press the OFF button on the receiver to stop ringing. Sufficiently loud sound and bright indicator light help to alert the hearing impaired.

Multiple Music & Volume Options
The receiver has 55 melodies and 5 levels of 0-110db volume. Easily set different ringtones for different buttons. Meet your requirements for volume in different occasions.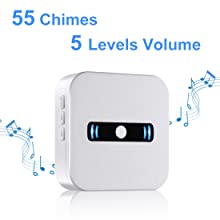 Effective Long Operating Range
Operating distance up to 1000 ft in open areas. Enough for use in homes, offices, factories, and apartments. Reliable signal distance will not let you miss any visitor.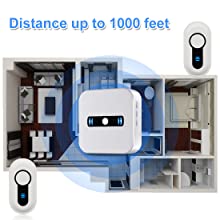 Weatherproof Button
The button has built-in waterproof silicone, which can be safely installed at the door or bathroom. Note: Do not soak in water. Heat-resistant material, not afraid of high temperature.
Easy to Install
No need to drill. Not damage the wall/door. Use double-sided tape to stick it wherever you need it. All the required accessories are included in the package for an effortless setup.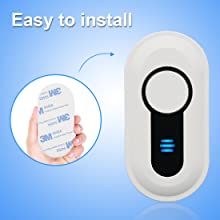 How to Change Ringtone/ Pair More Buttons?
Step 1
Press the "forward"/"backward" button on the receiver to select the melody you like.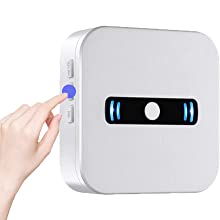 Step 2
Press and hold down the volume button on the receiver until it makes a "Ding" sound and the receiver indicator flashes.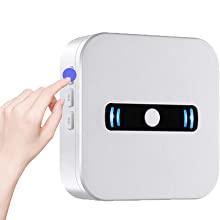 Step 3
Press the waterproof button quickly, it will makes a "Ding-Ding" sound and the receiver indicator flashes.
Step 4
Press the button again to confirm whether the receiver can sound, if yes, the pairing is completed.
Here is the product pairing video and the transmitter installation video
https://www.amazon.com/vdp/0e22e0c3ebad4ae685522d3046c4f2a2?ref=dp_vse_rvc_0