Multiple Music & Volume Options
The receiver has 55 melodies and 5 levels of 0-110db volume. Easily set different ringtones for different buttons. Meet your requirements for volume in different occasions.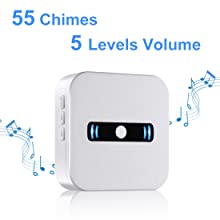 Effective Long Operating Range
Operating distance up to 1000 ft in open areas. Enough for use in homes, offices, factories, and apartments. Reliable signal distance will not let you miss any visitor.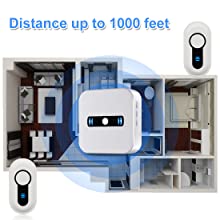 Weatherproof Button
The button has built-in waterproof silicone, which can be safely installed at the door or bathroom. Note: Do not soak in water. Heat-resistant material, not afraid of high temperature.
Easy to Install
No need to drill. Not damage the wall/door. Use double-sided tape to stick it wherever you need it. All the required accessories are included in the package for an effortless setup.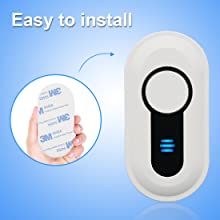 How to Change Ringtone/ Pair More Buttons?
Step 1
Press the "forward"/"backward" button on the receiver to select the melody you like.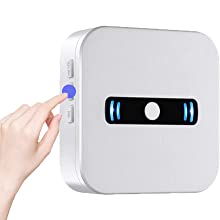 Step 2
Press and hold down the volume button on the receiver until it makes a "Ding" sound and the receiver indicator flashes.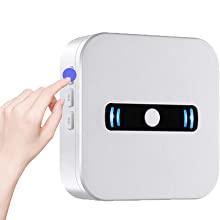 Step 3
Press the waterproof button quickly, it will makes a "Ding-Ding" sound and the receiver indicator flashes.
Step 4
Press the button again to confirm whether the receiver can sound, if yes, the pairing is completed.