As relatives and our parents get older, it is natural to feel uneasy about their sense of security. This is especially true when they live independently. Consider them alone. No one is around to help. If an accident happens, there will be no help. This is enough to make anyone worry.
The help button for seniors is an excellent choice to alleviate these worries and reduce the risk of independent living. The physical health of many elderly people may lead to emergencies, or weakened balance ability may lead to dangerous falls. In addition to ensuring that relatives can get the help they need in an emergency or accident, some medical alert companies also provide other features that benefit relatives, such as medication reminders or medication equipment.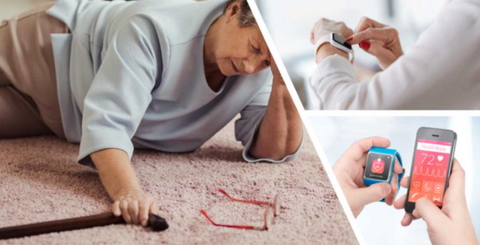 Deciding to buy the elderly help button is only the first step in the process. There are many companies on the market that produce elderly help button devices, and their products and prices are slightly different. Before making a purchase decision, it is important to understand how the emergency alert system works and what you should pay attention to when selecting equipment and providers. We will provide you with detailed information about the medical alert system and how to choose the best elderly help button to meet your needs.
What is the help button for seniors?
The help button for seniors is a personal medical device that can quickly and easily connect users with medical services or loved ones. They make it more likely that older people will get the help they need in an emergency, especially when they live alone. The system is mainly used in medical emergencies, but it can also protect the elderly in other crises such as fires or house invasions.

Where does the help button for seniors work
Although traditional medical alarm systems are only available in homes, newer technologies allow the development of medical alarm systems that can be carried around as long as there is a cellular signal.

The help button for seniorsis equipped with a base station and wearable components such as a watch, bracelet, necklace or belt clip with an emergency button. The base station is placed in a certain position in the house and kept in place. For base stations without fixed telephone service, the base station can be plugged into a telephone jack or operated via cellular signals.

There is a large button on the wearable component that serves as the user's "personal help button". When the button is pressed in an emergency, a signal will be sent through the base station to trigger a call to the emergency monitoring center or a contact selected by the user (such as a family member or a caregiver). The base station has speakers and microphones and is designed to cover the entire user's home.
They will communicate with the monitoring center or their preferred contacts through the base station. Some devices also have two-way speakers in the wearable component. Home devices determine that the distance between the user's wearable components and the base station is within a certain range, and make the base station listen to the voice, so they are a better choice for most people who spend their time at home.
How to choose the help button for seniors system
If you are considering purchasing a medical alert system for your friends and family, there are many options. However, because there are many different devices on the market, it is difficult to determine which device is best for your situation.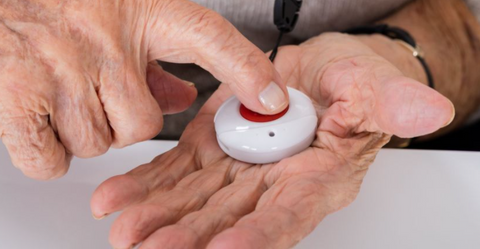 Before making a decision, it is important to consider what is most important to you. What kind of problem is it mainly used to solve? For example, if you work in your own house, but there are elderly parents at home who need to take care of them, the best solution at this time is to set up an emergency button for them. Usually, this button will be equipped with a receiver as standard, and the effective distance is about 500 feet, which can fully meet daily use. Although this type of elderly help button system does not have an automatic trigger device, it is completely usable.
The help button for seniors system produced by CallToU has won unanimous praise from users for its affordable price and strict quality. We recommend that you buy a set of toys for your parents to ensure that they can help when they need it most. Something to rely on.

What will we consider when buying the help button for seniors?

Make sure to check the following features to understand the comparison between the different options and make sure the equipment meets your needs:

Water resistance. Can the wearable device be worn in the shower or get wet in the rain?
Battery Life. Does the device need to be charged? How long can the user use between recharges?
spare battery. Is there a backup for the basic unit in the event of a power failure?
range. How far is the user from the device base to work properly?
Fall detection. Does the device include motion detection functions for automatic execution。
The above are the suggestions that CallToU shared with you on how to purchase the help button for seniors system. If you happen to be reading this article at this time, we recommend that you return to the home page of our website to make a purchase. There is a collection of various types of elderly assistance arrangement systems that can help you meet your home care needs. We have been focusing on elderly care for 30 years. We fully understand your concerns about your family, so we always put user safety and quality first. In addition, we have to say that our price is the most affordable among similar products.
The above is the article information related to the help button for seniors , it is recommended to read them.
Medical Alert Systems For Seniors No Monthly Fee
WHAT is the EMERGENCY ALERT SYSTEM for SENIORS