For people over 65 years of age, falls can be a serious health risk. According to a report from the Centers for Disease Control and Prevention, 3 million elderly people receive treatment in the emergency room each year for falls and other related injuries, and one quarter of elderly people fall each year.
But we can take some actions to reduce the possibility of falling. For example, in terms of the body, strengthen the physical exercise of the elderly, or in the diet, intake of nutritious protein to strengthen bone hardness. There is another good choice: buy fall alert watch for them.
For a long time, the standard of care has been a "personal emergency response system" or call device-a pendant hanging around the neck with a button on it that the elderly can press to contact the call center, emergency services or family and caregivers. Newer devices can be worn outside the house, and some can even automatically detect a fall in case someone can't press the button.
However, they are not ideal solutions because they are stigmatized. Most people, including the elderly, associate these devices with the elderly women in the famous LifeCall advertisement in 1987. They reluctantly chanted "I fell, I can't get up!"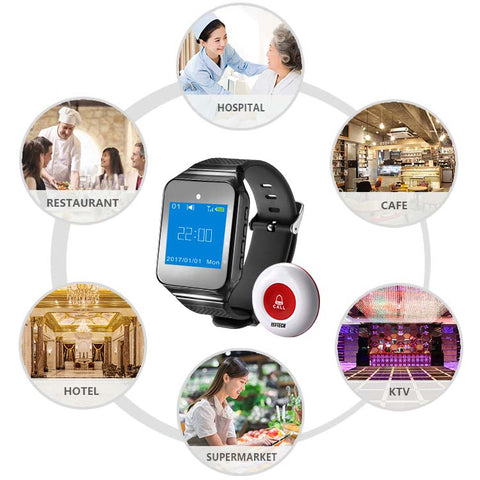 "No one wants to admit that they may be at risk of falling," Noga Barpal, a business development assistant at Vayyar, a company dedicated to developing new fall detection technology, told MobiHealthNews. "...What happens when you put on something, you are like yelling to everyone,'Hey, I might fall, so I wear this pendant.' This is not for everyone it is good."
Recently, the healthcare and digital health world has stepped up efforts to create an alternative solution that is not only free from stigma, but also has the function of proactive, detecting and even preventing falls.
The appearance of a medical emergency watch is the same as an ordinary watch, and it can check the time and send text messages. But the most distinctive feature is that it can automatically detect whether you have a fall, and it can also detect your heart rate. When you encounter an emergency, it can automatically help you contact the medical center, reducing the time waiting for an ambulance.
It can be worn on the arm as an ornament like other watches, making it easy for most elderly people to accept. Because some elderly people think that the use of medical equipment is a shame, it is a blow to themselves and a destruction of their personality. But with such a watch, they are also happy to wear it.
CallToU's fall alert watch, which is available in black or white, looks and works like a basic smart watch, and is equipped with a corresponding call button; if the button is pressed, the family member or carer can receive the signal and understand that the family member needs help.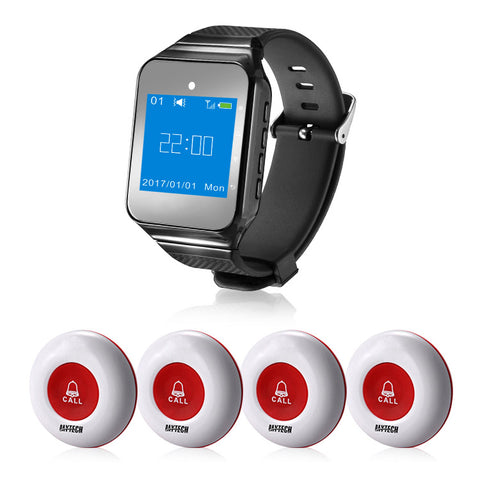 Its characteristics are as follows:
1.Wrist Pagers and 2 Call Buttons, the Idea is for Both Caregiver and Patient/Elderly/Resident/Handicapped/Sick Freedom while Still calling for Help at home. Not need to Yell to Get Someone's Attention.
2.SMART CAREGIVER ALERT: Vibration or Audible Prompt for choice. Wake Up the Night Shift Caregiver Only, And not wakeup/disturb the others.
3.Transmitter/Push Call Button is Waterproof. Acceptable for Meal/Soup Splash. And Allow to be Installed in the Washing Room.
4.Transmitter/Push Call Button is Easy Carry. It can Be Put in Pocket. Or Hang on neck as Pendant. Neck Strap included. Fixed in Bedside/Washing Room. The Fixed Bracket and Double sticker are included
5.Both Pager/receiver and Call button are powered by Built-in battery. Pager battery are Rechargeable. Standby time about 3 days. DC 12V 23A Call button battery. Standby time about 1 years