Among the elderly in the United States, falls are the leading cause of hospitalization and death. The most important reason is the decrease in physical activity: without daily exercise, you will lose your balance. Taking daily medications can also affect their bodies. Side effects such as dizziness and drowsiness can increase the likelihood of falls. So as their children, we can take some measures to prevent the elderly from falling.
The first is to keep all floors around the home free of clutter, which is very important; make sure that the ground is not smooth or the floor is damaged; install handles around the house to make it easier for them to get up; regular eye examinations are also very important because of vision Poorness is another major cause of falls in older people.
Regular physical inspection is a measure, and there is an auxiliary measure: purchase fall detection devices.
We find there is an increased competition as well as technological advances; these have made medical alert systems more affordable for most budgets. Over the past several years, the number of personal emergency response system has grown dramatically. If you or loved one who is aged is living alone, then it may be worth investing in a fall detection medical alert system.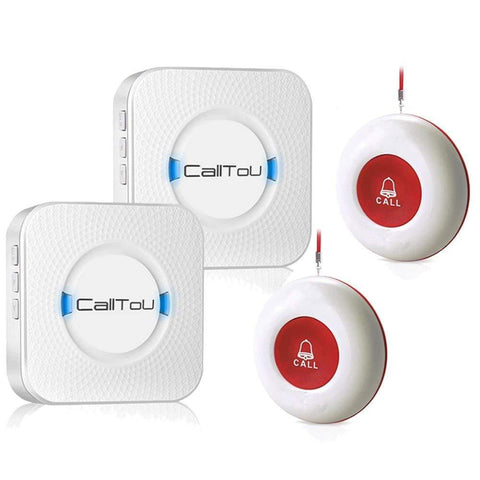 There are many different types of fall alert systems, some use automatic fall detection technology, and some do not. Both types of devices are designed to be easily worn by the elderly at any time. Automatic systems can detect falls on their own, they don't have to press the emergency button on the bottom like other devices. They do this by measuring the speed of movement in all directions and comparing it to the actual falling direction, which reduces the chance of falsely reporting a fall. If the elderly cannot press the button to call emergency services, it can also detect falls and call for help.
However, the use of an automatic fall detection system usually requires an expensive monthly fee, which is unaffordable for those with unstable income and poor family conditions. Therefore, it is a good choice to buy a product that does not charge a monthly fee, because the other functions are the same except for the lack of automatic monitoring and GPS positioning.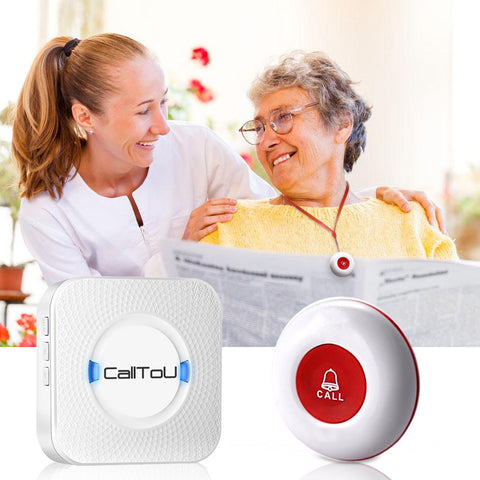 CallToU is a professional supplier of auxiliary products for electronic equipment. We provide professional industry system solutions, such as medical alarm systems, including practical and affordable digital products, including nursing pagers, doorbells, restaurant paging systems, children's walkie-talkies, etc. Through continuous improvement and optimization of technology, these devices can help caregivers keep in touch with their families and older relatives so that they can get timely help in the event of a medical emergency when they fall or disappear.
The fall detection devices include several call receivers and call buttons, covering a wide range. When you press the call button, it will automatically send a signal to the receiver, and then the receiver will emit a ringtone.
It is worth mentioning that the call button can be worn on the wrist or hung on the neck in the most convenient way; it can be pasted on the head of the bed for convenient use by the elderly.
The pendant is up to 500 feet away from the base, so it is perfect for those who like gardening or outdoor activities. They can move around in the yard freely, and there is no need to worry about accidents.
The price of the equipment is about 20-40 US dollars, and there is no charge.